My third book — HYBRID VIGOR: a true reveal of LOVE — a nonfiction exploration of a few of love's many flavors (using animals as totem-guides!) will be available summer 2019. Check back or leave your email here for author-e updates. Thanks, and much love to you! teZa
"teZa Lord is an angel of the heart, a sky dancer and ... dakini ... one who has devoted her life to love, aesthetic beauty, and the art of transformation. In everything she does, every word she writes, every canvas she adorns, she points the way to light and a higher realm of being." —Wade Davis, author of many best sellers, a popular TED speaker, National Geographic Explorer, Ecologist, and recipient of the 2017 Award For Social Awareness from U. of British Columbia
Read what OTHERS RAVE about "in the I"
Yann Martel author of Life of Pi says: "teZa Lord is one of those untiring foot soldiers of love without whom this life we live would be unbearable."
Dr. Steven Farmer author of Sacred Ceremony says: "This book is a gem that you will want to read slowly and savor every passage!"
Rita Golden Gelman author of Tales of a Female Nomad says: "I couldn't put it down! There's magic in the way teZa Lord creates tension and fascination in the context of locked-up teen girls, meditation, yoga, and an imminent hurricane."
A nonfiction narrative the shows how the MOST stressed-out kind of person, a teenage juvie in prison, finds comfort in the inner self, their inner 'I' ... when author teZa Lord teaches them about yoga and meditation.
The true-life story begins just as Hurricane Charley is gaining power, first decimating central Cuba before aiming straight for Florida. When it strikes the Gulf Coast on the morning of August 13, 2004, the yoga-girls await news of where the eye of the storm will hit. As the storm rages toward them, we relive with them all the mind-stilling, empowerment, inner-work that their yoga-teacher "Miss T" (author Lord) has taught them in the preceding weeks, months, years, depending on each girl's sentence.
An allegory for our challenged times, with a cast of unforgettable characters, this plotted nonfiction reads like a novel, but is completely true. Illustrated by Lord's black-and-white drawings.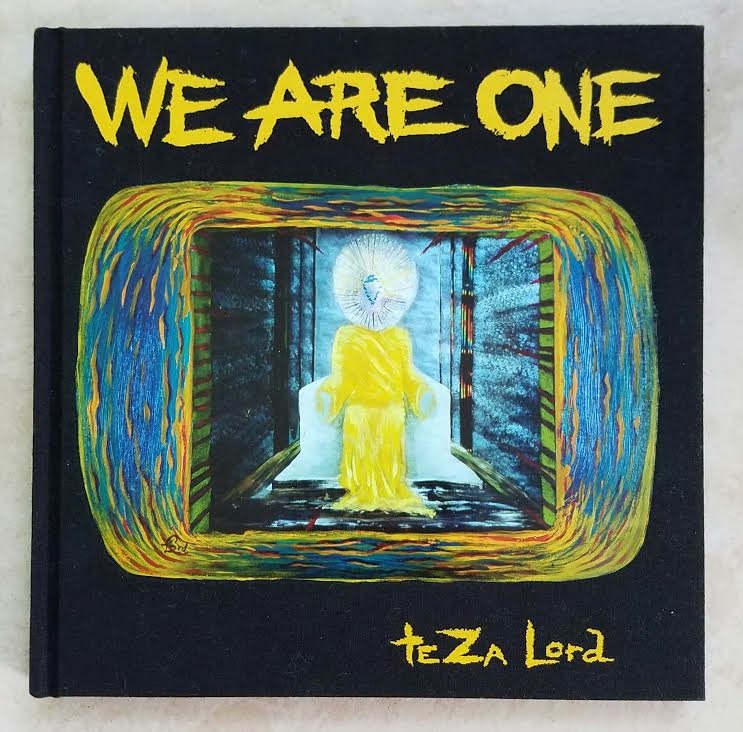 84-page coffee table full-color hardcover art book. Visionary images provide a scintillating exploration of Oneness of All in Existence. Lord's "manifesto." A literary gem for anyone interested in visions n' verse, expanded perceptions, world unity, and expanded, peaceful understanding. Each page is a meditation. offering intimate insights with heaps of humor and om-energy. Makes one feel connected and re-charged. This book is an aesthetic delight, an eye-catcher. By "diving into" each image, an indescribable inward adventure unfolds. Many use each page-spread as an individual, daily reflection for their spiritual journey.
Beautifully bound: $35 plus shipping.
Check back for next exciting & all true spiritual adventure